Need of AIDLMS (Animal Identification & Life Cycle Management System)
The necessity for proof of ownership and identification.
Keepers to maintain records of origin, identity and destination of animals.
up-to-date record of all Animal's births, deaths, movements, treatment, vaccination, castration, Pregnancy, Insemination, accident and others information with dates.
By collecting Secure, authentic & Real-time data ( with the help of PDA ) one can get correct statistical analysis and on time information which helps to take decision making.
To provide proper and timely treatment to the cattle with health related case history.
improving management, sales of breeding animals and genetic improvement.
Constructed data will help to achieve goal for better breed , more productivity which helps for better production.
Why RFID for AIDLMS
Enable Automatic Identification & Data Collection (Contactless)
Identification performed in milliseconds

No line of sight required
Contactless
Works in a harsh environment
No human error involved

Avoid Error at data collection & Reduce Handling Mistakes (No human intervention)
Able to write data on tag (RFID tags have high data capacity and can include manufacturer, batch no., ownership, destination, history etc.)
Can read multiple item simultaneously
Avoid Manipulation / Tamperproof
Avoid missing data for Important decision
Objective of AIDLMS
To develop core animal life cycle management system which provides accumulate information about animal life cycle like :

AI ( Artificial Insemination )
PD ( Pregnancy Diagnosis )
Calving
Vaccination / Treatment
castration
Milking Record maintenance
Stock Inventory
Laboratory
VO / Field Staff Daily visit log

To improve animal's health, its fertility and productivity.
Apportion of Secure & Permanent IDentification.
Proposed System Overview
After analyzing the problem we designed an unique solution which contains:

User friendly software (web based)
Indigenous electronic device with Software (PDA) for field officer

Provided RFID base tag (Ear Tag – External Tag / Internal Tag – Injectable Tag)for animal identification.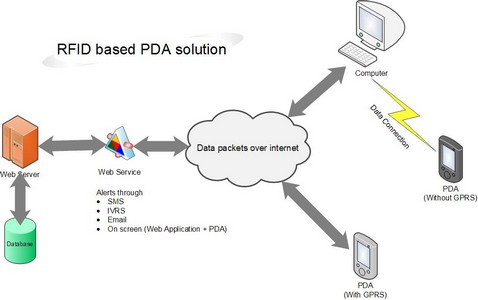 Proposed System Flow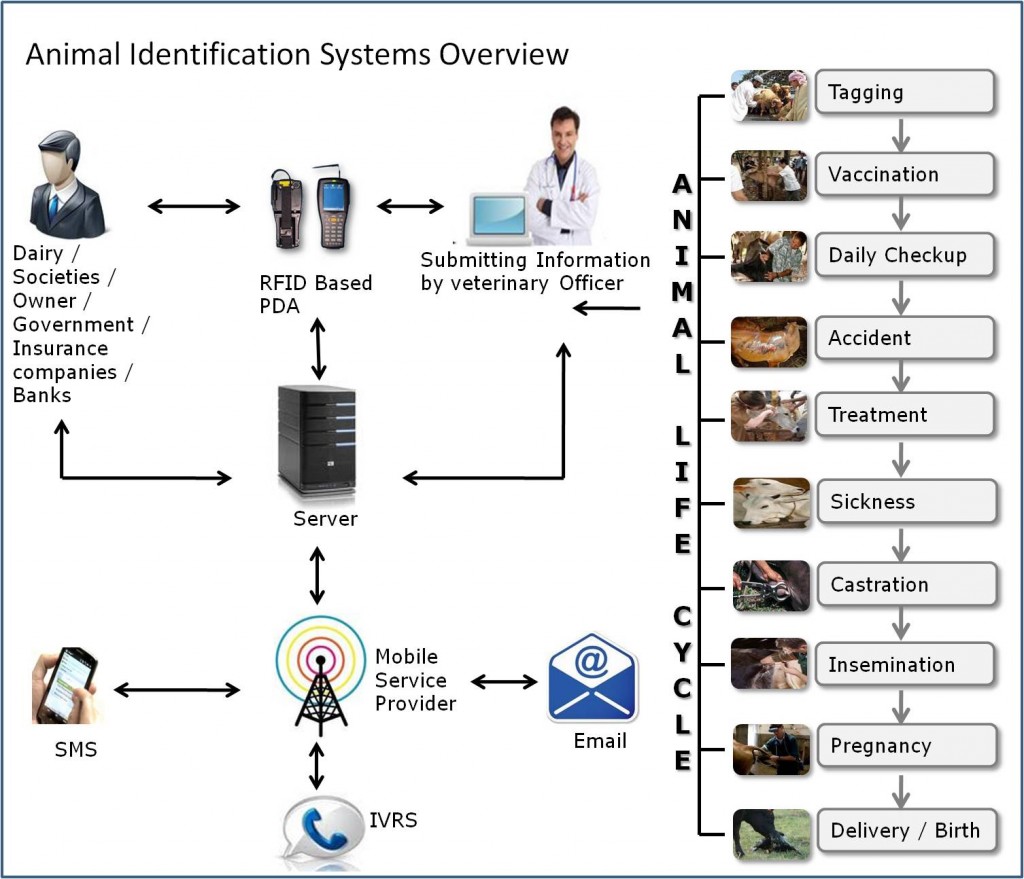 Beneficiaries of the system
Dairy Management
Co-operative societies
Cattle Owner
Government
Insurance companies
Banks
Features and facilities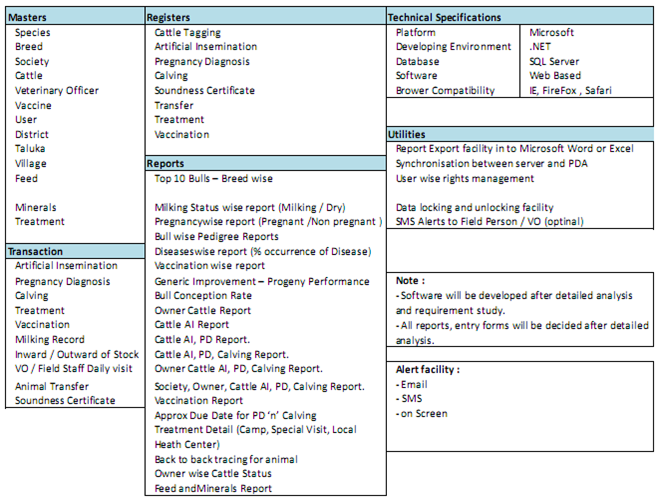 | | | |
| --- | --- | --- |
| Our Solutions | Our Services | Request for a Quote |