Objective of INVENTORY TRACKING SYSTEM

Inventory Management or we can call it as stock management is a best control method which allows you to organize and manage your financial aspects. Inventory Management helps providing a good understanding ground and the capacity to control your financial costs. Good inventory management system helps you a great deal.


To Find and track down all the processing data's in an inventory system repository.
Define a procedure by which assets are identified and maintained in the Inventory System.
Provide all necessary personnel (data entry, update and deletion).
Complete range of reports that will satisfy informational requirements.
Solution Outline
Import data into application (Importing DATA from the .excel or .csv)
Design 2D barcode template and Printing Barcode
Every Item In-ward item is tag by barcode and rfid.
Generate dispatch advised before transfer to out-ward.
Trace the every in-ward and our-ward
Every out-ward item track by RFID Reader
System buzzering on every unauthorized out-ward.
Proposed Solution
Solution is divided in three different Phases:
Tags all the Items with Barcode and RFID
Track each and every Inventory with the help of proposed system automatically through PDA, Integrated Reader and RFID Gates.
Centralize Data Storage, Reports and Analysis
Our Proposed System features are as under:
Fully Automatic &Authentic System
Inventory Commitment.
Barcode Printing.
Audit Trail for Inventory Adjustments.
Stock/Inventory Transfer.
Barcode + RFID + Wi-Fi (Online / Offline Processing)
Importing data from Existing System
According to logged data, system will generate many statistical reports.
By OLAP system created 3 Dimensional Analytics
History Management
Data Archive Facility
Synchronization facility with PDA
Smart Graphical User Interface to represent location wise real-time inventory tracking information
User Friendly PDA software Application
Proposed Business Process Model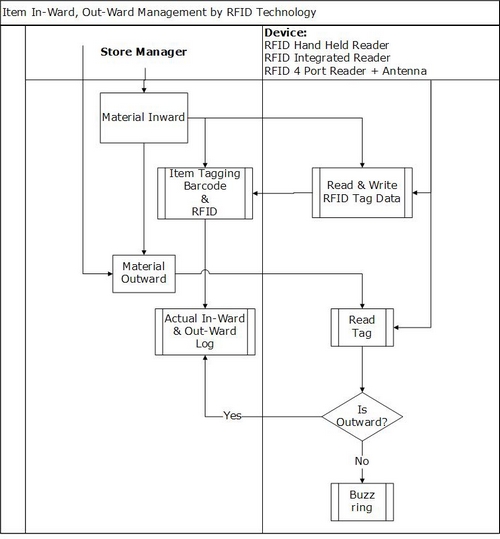 | | | |
| --- | --- | --- |
| Our Solutions | Our Services | Request for a Quote |