RFID Based Electronic Toll Collection System (ETCS)

The Minister for Road Transport &Highways, announced and said that the RFID technology will ensure seamless travel across the country. Earlier, the Chairman of the Committee along with other members submitted the report, providing a road map for efficient electronic toll collection system. The Committee has recommended adopting RFID technology (based on EPC, Gen-2, and ISO 18000-6C Standards) for electronic toll collection on National Highways in India. The technology will enable seamless travel on national highways in the entire country by providing a uniform inter-operable ETC system for paying tolls.

It is expected that the ETC system will be beneficial to users, toll operators and NHAI. It will increase user convenience (from payment without stopping at toll plazas), lead to savings on fuel and reduction of emissions from idling and repeated stops for vehicles, reduce traffic congestion and time to commute. It would mean less operating cost for toll operators, better audit control through centralized user accounts, improve transparency of toll transactions and reduces revenue leakages.

What is ETC - Electronic Toll Collection ? Electronic Toll Collection (ETC) is a generic term for the application of various technologies designed to automate the traditional toll collection process of stop-and-pay. Drivers can pass toll collection points at various speeds, from 'crawl though' to highway-speed - depending upon the technologies deployed - and the toll is collected automatically (de scribed later). Some open-highway systems with ETC have done away with toll booths and plazas altogether.

ETC literature typically describes these technologies in terms of their three main functional components in proposed system:
Automatic Vehicle Identification (AVI),
Automatic Vehicle Classification ( AVC) and
Vehicle Enforcement System (VES).
MAIN FUNCTIONAL COMPONENTS IN PROPOSED SYSTEM
Automatic Vehicle Identification (AVI)

In this section, vehicles are identified. This system includes roadside equipment (RFID Reader)and inside-vehicle tags (RFID Tag). There is a receiver in the passing route of vehicles that communicates with the tag installed on the rear-windshield and reads the vehicle information.

Automatic Vehicle Classification ( AVC)

This section is responsible for vehicle classification. Obviously, tolls should be dependant on vehicles' weight and size. Therefore, it is necessary to use equipment for identification of vehicle classes (passenger car, minibus, bus, two-axle lorry, and multi-axle lorry).

Vehicle Enforcement System (VES)

Today it is possible for the vehicles passing a toll road not to have authorized tags, to have insufficient account balance for the required toll, or to have invalid tags. In such a case the violating vehicle should be identified and face legal action.
ADVANTAGES OF OUR PROPOSED SYSTEM
ETC Customers
Speeds transaction time and reduces journey delay.
mproved convenience and comfort (no need to search for change, wind down the window etc.).
Extends payment options (cash, credit card, debit card, cheque etc ...).
Commercial users no longer require cash or ticket from employer (open to abuse)
Can also be extended to allow vehicle tracking.
longer vehicle life
Receive monthly statement (no need for individual receipts).
Improved safety (conventional toll collection can lead to accidents - typically rear-end collisions - by drivers distracted by the need to find change, choose lane etc.).
Often linked to a discounted toll structure.
Increased toll processing throughput without new infrastructure.
Reduced cost of toll collection (lower staffing costs).
The authority receives payment in advance.
Enhanced auditing capabilities.
Improves public attitude to tolling.
Minimizes right-of-way requirements for new plazas.
Allows for elaborate discount programmes.
Can be employed for congestion management purposes (through variable - eg. peak period - pricing) and other applications
Air quality: Improved air quality (particularly at toll plazas and in high-emission departure zones).
Light: Reduced lighting spillover to adjacent communities.
Water quality: Improved water quality (reduced contaminated runoff from plaza pavement).
PROPOSED SYSTEM FLOW CHART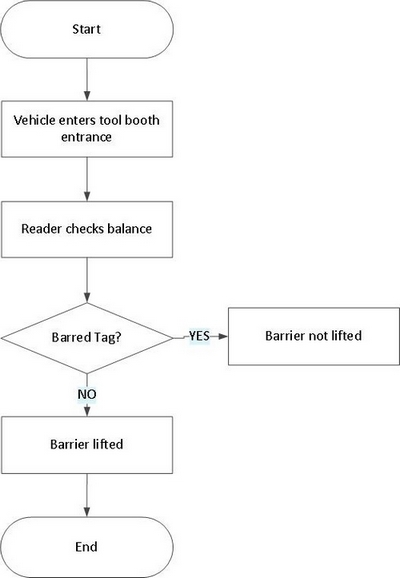 | | | |
| --- | --- | --- |
| Our Solutions | Our Services | Request for a Quote |